Dangers of Bearing "Witness": JW's say intolerance intensifies
By Vahan Ishkhanyan
ArmeniaNow reporter
Jehovah's Witnesses say their group is experiencing growing intolerance and even acts of violence against them in Armenia. The religious sect blames several incidents in recent months on negative television and newspaper reports about them.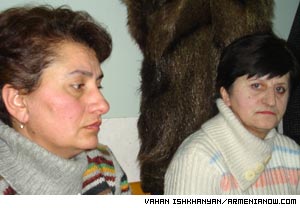 Two women say they were assaulted for promoting their religious beliefs.
The group – known for their door-to-door proselytizing and "Watchtower" literature – says hostilities against them have noticeably increased since they were given legal status in Armenia two years ago.
According to complaints registered with police . . .
On August 21, 2006, Ashot Poghosyan, a priest of the Armenian Apostolic Church, beat two female Jehovah's witnesses in Yerevan's Shirak street so fiercely that one of them had her arm fractured in two places.
Zoya Tamaryan and Lena Karapetyan say the priest attacked them while they were discussing religious topics with a trader.
"He slapped Lena and then me, I fell and broke my arm," Tamaryan says. "He picked up a rock, I stood up and ran, he was after me with a rock . . . he threw the rock but missed." She claims the priest also threw a bottle also at the other woman.
(ArmeniaNow has been unsuccessful in reaching the priest, however police verified the incident.)
Police in Yerevan's Shengavit district say they didn't open a criminal case, after speaking with Poghosyan, who expressed remorse for his role in the incident.
But Tamaryan, 57, says she doubts whether the priest is sorry.
"He should at least have come to me and offered an apology," Tamaryan says. "I haven't seen him regretting what he did to consider whether to forgive him or not."
Artak Tadevosyan, an investigator in charge of the case, refused to answer ArmeniaNow's questions.
The Jehovah's witnesses applied to the court of the first instance and the court of review to revoke the police decision refusing to institute a criminal case, but their appeals were rejected.
According to other reports:
On March 31, last year, in the entrance to one of the buildings in Yerevan's 3rd district (Shengavit), Mareta Melkonyan and Manyak Brutyan were beaten by a citizen after Manyak asked him: "What do you think about the state of the country?" Gerasim Abgaryan kicked them and threw them down the stairs. This time the women's application was considered and the court found Abgaryan guilty and handed a six-month suspended sentence and imposed a fine.
The most recent incident occurred on November 16, when knocking at a private house gate in Yerevan's Arabkir street Karmen Sargsyan and Nvard Stepanyan were approached by a school teacher, Aghasi Mikaelyan, who demanded that they go away. He grabbed the organization's periodicals from Sargsyan's hands and hit Stepanyan across the face. The women turned to police. After Mikaelyan apologized to the women in the police precinct they took their application back.
"Cases of violence against us have increased recently," says Jehovah's witness Levon Margaryan. "We have registered five cases of violence, but there were more that we didn't register. It is noticed that television programs and newspapers play a big role. People say – they said this or that about you on television and begin to feel animosity against us."
There are occasional programs on television and articles in the press against religious organizations. One example: one clergy says on the pages of the "Azg" daily that Jehovah's witnesses, the Seventh Day Adventists and other "decadent" sects are like AIDS "which in this case decays a person's mental abilities."
On another occasion editor Hakob Avetikyan (whose brother is an Apostolic priest) writes that his paper criticizes religious minorities and will to criticize them for their misleading propaganda and aggressiveness.
State officials also participate in the crusade and comment publicly in apparent contradiction to Armenia's commitment to the Council of Europe to create equal conditions for all religious organizations. Head of the Government's Department for National Minorities and Religious Affairs Hranush Kharatyan has been among those who've erroneously stated on television and during forums that Jehovah's witnesses were banned in France as a decadent sect.
Jehovah's witnesses say that violence, in particular, began when during one TV program writer Vahram Sahakyan called on people to beat with rolling-pins sectarians knocking at their doors. On his website (www.vraert.com) Sahakyan writes: "Slam the doors in front of sectarians so violently that they roll down from the wave of the blow."
http://armenianow.com/?action=viewArticle&AID=1995&CID=2070&IID=&lng=eng