Uzbekistan: Government Launches
Campaign Against Missionaries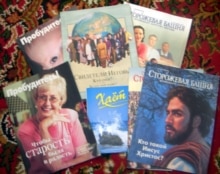 Religious literature is strictly
banned in Uzbekistan
(RFE/RL)
Religious persecution is
well-known in Uzbekistan, where human rights group
accuse the government of imprisoning hundreds of Muslims
for practicing their faith outside state-approved
institutions and labeling them extremists bent on
overthrowing the secular government.
Now, the government of President
Islam Karimov is taking a broader aim against believers
– this time targeting primarily fringe Christian
missionary groups.A recent documentary on Uzbek state television condemned
such groups as the Jehovah's Witnesses, Christian Gospel
Church, and Blagodat (Grace) as creating a "global
problem, along with religious dogmatism, fundamentalism,
terrorism, and drug addiction."
The documentary, "In the Clutches of Ignorance,"
featured several Uzbek religious and political experts,
state officials as well as representatives of the
Orthodox and Catholic churches in Uzbekistan. All took a
critical view of missionaries.
Jasur Najmiddinov, a theologian from Uzbekistan's
Islamic University, was among the many religious experts
interviewed. Najmiddinov accused Christian missionary
activities, especially by Protestant groups, of becoming
a "political tool" and a "part of geopolitical games."
"Their center or place of origin traces back to the
United States," Najmiddinov says. "They have even gone
so far as meddling in politics. We all know
representatives of the Protestant movement played a
significant role in the Orange Revolution in Ukraine."
In an interview with RFE/RL's Uzbek Service, Najmiddinov
later said that Christian missionary movements are a
"hidden threat to Uzbek society" and that their
activities are "as dangerous as terrorist activities or
the illegal drug trade."
The Uzbek theologian added: "Missionaries' activities
here can lead to disruptions in our society. If a member
of an Uzbek family — our family member or one of our
relatives — change their faith, the family would not
tolerate it."
The documentary also showed video footage of people
gathering and praying. It said Uzbek Christian converts,
having betrayed their Islamic faith, could easily betray
their country, too.
Uzbek law prohibits all religious missionary activity,
unregistered religious groups, and the unapproved
publication of religious literature.
Defenders of religious freedom, such as the Norway-based
group Forum 18, say there has been a steady rise in
repression against religious communities in Uzbekistan,
including police raids on private homes, detentions of
believers and converts, and deportations of foreigners
involved in religious activities.
According to Forum 18, a young female Jehovah's Witness
was detained and physically assaulted by a police
officer after a raid on a private home in the city of
Samarkand in March. In another police raid in Samarkand
on April 3, security forces detained a Christian
convert, Bobur Aslamov. He remains missing. Forum 18
also says several other Protestant church members were
beaten during the raid and that police seized Christian
literature as well as a laptop computer.
On April 9, police in Tashkent reportedly raided a
service held by a group called the Full Gospel, an
offshoot of Pentecostalism. Church leader Serik Kadirov
was arrested along with four others. They were released
the following day.
The state television documentary, broadcast on May 16,
accused missionaries of targeting "those with low
political awareness and weak-willed young people, as
well as minors." It added that missionaries that "get
funds abroad" undermine the Uzbek people's Islamic faith
and values.
Islam, But Only Government Islam
That's a charge that strikes many as ironic, however.
Religious-freedom defenders and Uzbek government critics
say the country's Muslim community is more tightly
controlled than any other religious group in the
country. Activists say hundreds of ordinary Uzbek
Muslims are put behind bars on a regular basis for
merely practicing their religion.
Obidkhon Qori Nazarov, a prominent Uzbek imam, tells RFE/RL's
Uzbek Service that he blames the Uzbek government's
pressure on Muslims for alienating many Uzbeks from
their centuries-old faith.
"This is the result of the government's policies. The
government is not leaving Muslims alone," Nazarov says.
" People are being fired from their jobs or expelled
from universities for merely growing a beard or wearing
head scarves. Some people are even sent to prison.
People are afraid of following the most basic Islamic
requirements. For instance, parents do not allow their
children to pray or to go to mosques, because they are
afraid of the government."
The Uzbek government maintains that Muslims, Christians,
and followers of all other religions enjoy full freedom
in following their faith. However, government critics
such as Nazarov say the government controls all
religious activities — and that even imams are
appointed by authorities.
"It's like Soviet times," Nazarov says. "In the Soviet
days, we also had mosques and churches everywhere. But
in reality, they all operated under the tightest
government control."
RFE/RL's Uzbek Service contributed to this report